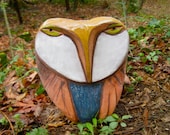 Garden Owl
This owl sculpture is made to go outside. It is handmade with non-porous stoneware clay fired hot. The glazes are gloss finish. Whoooo!
One of a kind................signed by the artist.
6-1/2" tall 5-1/2" wide"
Hand made from clay and love, one of a kind, and signed by me :) Blue Fire, the artist.
Naming my Work:
Click Here to Visit My Etsy Shop!