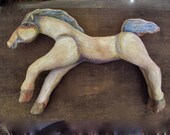 Flying Horse Dreaming Love
.....wall hanging
13-1/2" long x 9" tall approximately
Hand made from red clay and fired ceramic colors of the rainbow.
In the close up photos, you can see the way these ceramic glazes look like chalk or pastels. I work with colors the way a painter does...that's because i started out as a painter!!! and then i discovered the mag...
Click Here to Visit My Etsy Shop!